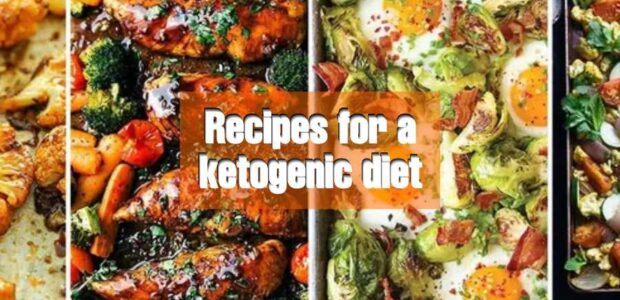 The Keto diet plan is continuously gaining massive popularity for providing the best solution for weight loss. It generally focuses on reducing carbohydrate intake and increasing the portion of fat in your diet. Usually, our body generates energy from glucose which is derived from carbohydrates. But when you stop eating carbs or eat them in insufficient quantities, that energy source gets replaced. But in the absence of carbs, the liver starts to convert fat into fatty acid and ketone bodies. 
If you follow a keto diet, you can only take around 20 to 40 grams of carbs. Besides that, your diet must include 70% to 80% of fat, 25% protein, and only 5% of carbs. Though you can add a variety of food to your keto diet, that item must fulfill all these criteria. All these restrictions make meal planning difficult.
Therefore, to make this task easier for you, we are sharing some best tasty and healthy keto diet recipes with you.
Ingredients
Chimichurri dressing
4 tbsp mayonnaise
¼ tbsp red wine vinegar
½ cup (¼ oz.) fresh parsley or fresh cilantro
½ tbsp red chili peppers, chopped
1 tbsp dried oregano
One garlic clove
Chicken thighs
1 tbsp olive oil or coconut oil
1 lb boneless chicken thighs
salt and ground black pepper
Serving
2 cups (4 oz.) leafy greens
1 (7 oz.) avocado, sliced
¼ (1 oz.) red onion, sliced
One lemon, cut into wedges (optional)
½ red chili pepper, sliced (optional)
Instructions
First, add all the ingredients mentioned above to a blender. Mix them well, and you can add some water if you want flowing consistency. Now keep this mixture aside and then heat a frying pan. Now pure some olive oil and garnish some salt and pepper on the chicken side by side. Add the trimmed chicken to the frying pan and fry it from both sides until thoroughly cooked. It will get well cooked within 10-15 minutes. While the chicken is getting ready, chop the veggies are put them on individual plates. Finally, it's time to place the chicken on plates and garnish them; add some lemon wedges and chili as per your preference.
Ingredients
4 oz. (¾ cup) feta cheese, crumbled or cubed
1⁄3 cup (2¾ oz.) sugar-free green pesto
5 oz. cherry tomatoes halved
11⁄3 lbs boneless chicken thighs
3 tbsp olive oil
12 oz. zucchini or zucchini noodles
Instructions
Place the thighs of chicken in a medium-size pot and cover the chicken by pouring cold water. The moment water starts to boil, lower the heat to medium-low and stew for 15 minutes so that chicken gets thoroughly cooked. Now remove the chicken from the water and shred it with forks. Set chicken aside, cut zucchini into spirals and place the zoodles in a large bowl. Now pour the pesto over the zoodles and toss it to overlay the zoodles completely. Now add the prepared chicken, tomatoes, and feta to the pot with zoodles and toss them gently until all ingredients get mixed.
Finally, sprinkle some olive oil on top, and your dish is ready to eat.
Note: Prepare a significant portion as this dish tastes much better if you eat it the next day. Because the noodles get softer and the chicken gets moisture.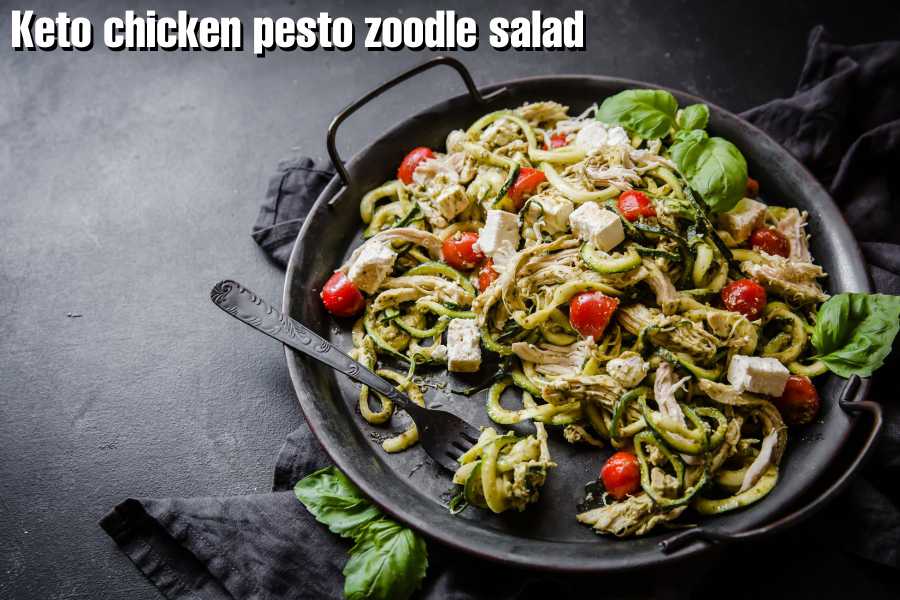 Ingredients
Spicy mayonnaise
2 tbsp hot sauce
¾ cup mayonnaise
1 tsp garlic powder
Chicken stir fry with broccoli
2 tbsp olive oil or coconut oil
1¾ lbs boneless chicken thighs, thinly sliced
1 tsp garlic powder
10 oz. (3 cups) broccoli, cut into small pieces
2 tbsp tamari soy sauce
1 tsp ground black pepper
Instructions
Spicy mayonnaise
Put all the ingredients mentioned above for spicy mayonnaise together in a small bowl and blend them well. Now put it aside.
Chicken stir-fry with broccoli
First of all, heat a wok with some olive oil on medium-high heat. Now put the chicken on a wok and add garlic powder and pepper. Fry while stirring for a few minutes until the chicken turns golden brown. After it turns golden brown add the tamari soy sauce and broccoli to the chicken. Stir the wok for a couple of minutes until the broccoli gets crispy. Now your dish is ready, serve it in bowls with spicy mayonnaise.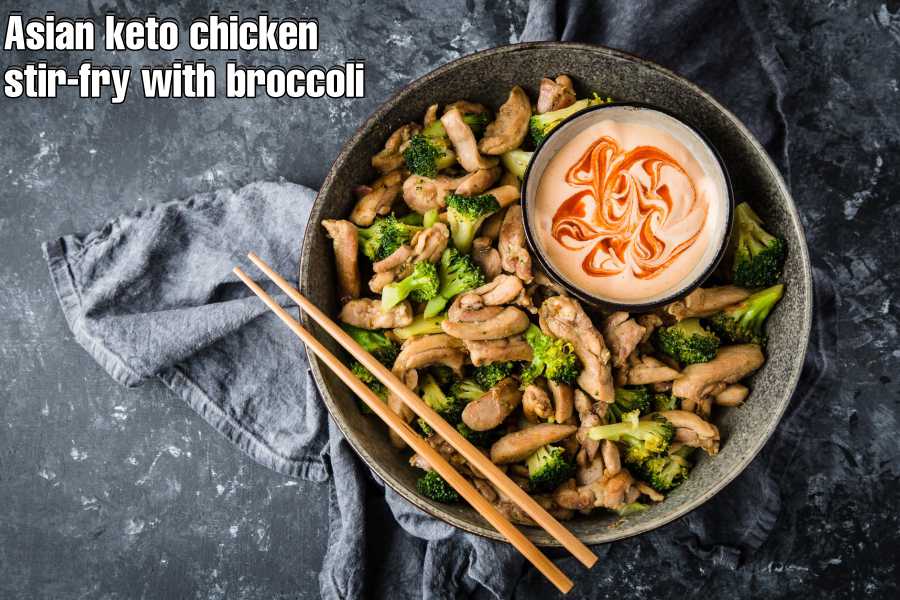 Ingredients
¼ cup whole milk
2 oz. smoked deli ham, diced
4 oz. (½ cup) cream cheese softened
1 (½ oz.) scallion, sliced
1 tbsp butter for greasing (optional)
lb 1 zucchini, diced (about 0.25 inches or 0.5 centimeter)
Six large eggs
1 cup (4 oz.) cheddar cheese,
Shredded
salt and pepper to taste
Instructions
Before starting cooking, pre-heat the oven to 180°C. Until the oven is getting ready, on the side, lightly grease a 23 x 23 cm baking dish. Now mix the eggs and milk and add the softened cream cheese. Pure this mixture into the baking dish and cover it with the remaining shredded cheese. It's time to put it in the oven and bake for 20-30 minutes. When the backing is done, set it aside to get cooled, and after 10 minutes, your dish is ready to serve.
Ingredients
Tarragon dressing
2 tbsp water
½ tbsp dried tarragon
1⁄3 cup mayonnaise or vegan mayonnaise
½ tbsp Dijon mustard
One garlic clove, pressed
Salad
4 cups (8 oz.) leafy greens
Eight oz. cherry tomatoes
1 (7 oz.) avocado
6 oz. cucumber
Garlic steak bites
2 lbs flank steak or ribeye steaks or sirloin steaks, cut into 1″ (2.5 cm) pieces
2 tbsp ghee or butter
Three garlic cloves, finely chopped
salt and ground black pepper, to taste
Instructions
Mix all the above-mentioned dressing ingredients in a bowl and refrigerate them. You can prepare the salad as per your preference and serve it in a big bowl. Now heat a large frying pan over high heat and add ghee or butter. Wait for the butter to melt, and then put the meat on the pan and add salt and black pepper. When the meat starts to change its color, add the garlic and mix it while stirring. Fry the meat until its color changes and get golden brown. It will get chewy if you overcook the meat, so avoid overcooking it.
Now add the cooked meat to the top of the salad with garlic. You can drizzle the dressing over the dish or serve it on the side. Now your dish is ready to serve.
You may also like – Food for Keto diet: What to Eat and Avoid
Conclusion
A Keto diet may not look like an easy option for a newcomer, but this will change once you get comfortable with the whole plan. You can achieve your desired weight while eating healthy and tasty food. Moreover, the Keto diet is not only helpful for reducing your weight, but it also has some additional benefits. It can help you improve your metabolism and reduce your blood glucose count.
Adding a wide variety of dishes to your keto plan will make following the keto diet easier for you. You will never get bored of these delicious dishes. Our list of keto diet recipes contains various healthy and tasty Keto dishes. We only shared those recipes that fulfill all the necessary criteria for a healthy keto diet.